Kershaw stacks up well with those who swept the MVP and Cy Young awards
---
On Wednesday, Clayton Kershaw will probably become the youngest player to win his third Cy Young Award. One day after that, the 26-year-old could become the first left-handed pitcher since Sandy Koufax in 1965 to win the Most Valuable Player and Cy Young Award in the same season.
He was so dominant this season that as early as June, the debate started again about whether a pitcher should be eligible for the MVP award. Those who say pitchers should be eligible refer to the name – Most Valuable Player – not Most Valuable non-pitcher.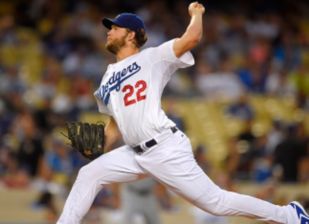 The common argument against is that a player who only contributes once every five days shouldn't be considered in the same category as those who play each game. Another argument against claims that pitchers have their own award – the Cy Young.
Kershaw's numbers were so impressive this year that one former MVP candidate has been swayed in favor of Kershaw sweeping the awards. Nomar Garciaparra, TWC SportsNet LA analyst and runner up in the 1998 MVP vote now thinks Kershaw deserves the award.
"I don't believe in the pitcher winning MVP with a position player being out there 162 games but at the same time watching Clayton Kershaw this year I don't think there was any clear cut position player that really deserves it," Garciaparra said on Access SportsNet LA. "I'm giving it to Clayton Kershaw,"
Garciaparra wasn't the only runner-up to be swayed this year. Kershaw's manager Don Mattingly won the MVP award and was not happy about losing it to pitcher Roger Clemens in 1986.
"I played in 159 games, you're in every game making plays," Mattingly said. "But as a manager, I've seen the value of him stopping a streak, and extending a streak. You really can count on him going six innings, even if he's getting knocked around. So he helps you the day after too, because your bullpen is rested. It's hard for a pitcher to be in that conversation, but he's going to be."
Kershaw did put up astounding numbers this season, leading all of Major League Baseball in wins despite missing more than a month with an injury. He went 21-3, with a 1.77 earned run average, gave up just 39 earned runs and pitched a no-hitter. He's already won two Cy Youngs and this season was by far his best. Time Warner SportsNet LA analyst and former Kershaw teammate Jerry Hairston, Jr., thinks the Cy Young is a lock.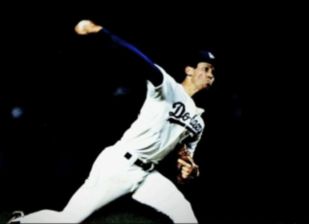 "I think it's going to be unanimous," Hairston said on Access SportsNet. "To bounce back from that shoulder injury early on – what a season."
It was a season for the ages and it would shock no one if it earned Kershaw the 11th all-time sweep of the Cy Young and MVP votes.
The first two were Dodgers, Don Newcombe in 1956, when he went 27-7, and Koufax in 1963 with a 25-5 record. The last National League pitcher to pull it off was Bob Gibson in 1968, when he went 22-9 but posted a 1.12 ERA. That same year Detroit Tiger Denny McLain went 31-6 to sweep the awards in the American League. There were three more winners (Vida Blue in 1971, Rollie Fingers in 1981 and Willie Hernandez in 1984) before 1986, but none of them faced particularly strong challenges from other MVP candidates.
Clemens beat Mattingly in 1986 with a record of 24-4 and a 2.48 ERA, and Oakland reliever Dennis Eckersley put up a 7-1 record with 51 saves to sweep the awards in 1992. That was the last time a pitcher pulled it off until Detroit's Justin Verlander went 24-5 with a 2.40 ERA to beat out Jacoby Ellsbury in 2011.
Strong years that stood out are a theme among most of the pitchers who swept the awards. But Kershaw had a phenomenal year when there wasn't anyone else with a standout year, as Garciaparra said.
"(Andrew McCutchen) had a tremendous year but I'm still giving it to Kershaw," Garciaparra said.
Reigning National League MVP McCutchen hit .314 with 25 home runs and 83 runs batted in while the other MVP finalist, Miami's Giancarlo Stanton, hit .288 with 37 home runs and 105 RBIs. Stanton did miss the final two weeks of the season with an injury, but overall played in 145 games while McCutchen appeared in 146. Both had strong seasons but modern statistics show that neither had a historic season.
Wins Above Replacement is often cited in MVP discussions as an effective way to compare pitchers with everyday players. It measures how many wins a player is worth compared to a Triple-A replacement. Kershaw led all of baseball with a WAR of 8.0, beating out the Angels' Mike Trout with a 7.9. Stanton had a 6.5 and McCutchen a 6.4, which didn't even crack the top 10 in all of baseball.
Perhaps no one is better suited to break down Kershaw's impact than Dodgers great and TWC SportsNet LA analyst Orel Hershiser.
"We define pitchers sometimes as sinker-slider guys. We define them as 'oh he's four seam-curveball guys,'" Hershiser said on Access SportsNet LA. "He's two pitchers in one body."
Hershiser had a strong case for winning both awards after his historic 1988 season. He went 23-8 with a 2.26 ERA, pitched 15 complete games with eight shutouts and compiled a record-breaking 59-inning scoreless streak. After the season he was one of 16 pitchers to win the Cy Young Award unanimously.
But somehow he placed sixth in the MVP vote, losing out to teammate Kirk Gibson. Gibson certainly had a huge impact on the team, bringing a winning attitude to Los Angeles, but his .290 average with 25 home runs and 76 RBIs wouldn't have him in the MVP conversation most years.
Modern statistics show Hershiser led all National Leaguers with a WAR of 7.1 while Gibson had a 6.5. Will Kershaw suffer the same fate? It likely won't matter to him. He's stated since the early summer when the MVP talk started that he's not interested in individual awards. Hershiser thinks that's the attitude that will continue to make him better.
"He's the low-and-away fastball slider and he's the high 95, curveball," Hershiser said. "And then he's developing the changeup. And he's competitive and then he wants more and then he's healthy and then he's young and then he's a great teammate."