This Day in History - 1/28/57 - Dodgers hire sad clown Emmett Kelly as mascot
---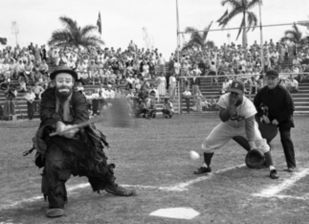 The Dodgers announced the hiring of Emmett Kelly to entertain fans on Jan. 28, 1957.
Kelly, the sad-faced clown, was to be used for in-game entertainment during Spring Training and regular season games. A circus clown who created the "Weary Willie" character bases on depression-era hobos, Kelly was a perfect fit for the Dodger teams of the 1950s who were embraced by fans as "da bums."
He was a longtime performer with Ringling Brothers and Barnum and Bailey Circus who also appeared in television and film roles. He often performed at Vero Beach during Spring Training. In the Dodgers final year in Brooklyn he is credited with bringing laughter and smiles to all who came through the turnstiles at Ebbets Field.
He was famous for swinging a broom at pitches, harassing umpires and cleaning his plate in which he would eat eggs off of home plate. Kelly performed for the team for several years but was less enamored with the Los Angeles Coliseum, the team's home from 1958 through 1962, because it was "too big for one clown."