Inside the Game: 62 players, one spring training goal
---
INSIDE THE GAME
GLENDALE, Ariz. – They're hitting in the cages, throwing batting practice, working on defensive drills and even battling on the clubhouse ping-pong table. They come from Cuba and Korea, the suburbs of New Orleans, the woods of rural Pennsylvania and even from nearby Scottsdale.
There are 62 players at a bustling Dodgers spring training facility at Camelback Ranch – a cultural melting pot certainly, but where every player speaks essentially the same language.
Some arrive with the security of knowing they own one of the precious spots on the 25-man big league roster, while others know they have a battle on their hands. Most of the younger players are aware they won't make the team – they're just here to get a taste of the big leagues, to learn from the veterans and to catch the eye of coaches and front office types.
But no matter their background, experience level or contract amount, all 62 of these players have one basic goal in mind: to prepare for a new baseball season.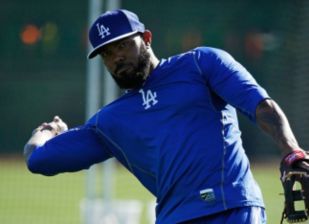 Howie Kendrick: Nine-year veteran with a .292 career batting average.
THE VETERAN
'I always look at it as I've gotta go in there and earn that'
Howie Kendrick knows he's not trying out for the Dodgers. As a nine-year veteran with a .292 career batting average, he's one of the 20 or so players in camp who don't have to worry about their place on the roster.
Nonetheless, he tries to enter spring training with a hunger to improve.
"I always look at it as I've gotta go in there and earn that," Kendrick says. "You gotta play. … You know what your strengths are and your weaknesses are, and it's all about trying to improve those things."
Kendrick admits, though, that his role is different at the age of 31 than it was as an Angels prospect less than a decade ago. He knows he doesn't have to hit well in spring to make the team, so he focuses more on the basics of getting in shape, improving his defense – including working with his new double play partner Jimmy Rollins -- and getting comfortable at the plate.
"It's different when you're a little more established," Kendrick says. "I mean I get my work in, I work just as hard as I would if I wasn't on the team, but at the same time, once games start you want to see as many pitches as you can, just start working your way into it, getting repetitions."
Kendrick also values his role as a leader, letting younger players know he is available to them while not being overbearing. His message to them is to work on improving and being patient. If they're good enough to make the team, they'll make it. But if they're not, they need to keep working to improve, because they could be an injury away from being a Dodger.
"I tell guys that all the time," he says. "You never know. A guy might get a sore hamstring or something and that might change it. You might get up, play well and you get pretty good exposure. You always have to look at both sides of it."
Darwin Barney: Hit .303 in 22 games with the Dodgers last season.
THE ROLE PLAYER
'You're going to question your ability'
Darwin Barney finds himself in an unusual position. He's a veteran with five years in the big leagues under his belt. But as a trade acquisition from the Cubs late last summer, he's played only 22 games as a Dodger and his surroundings still feel very new.
"I was an old guy in Chicago and I come here and I'm a young guy, so I like to think I'm right in the middle," Barney says with a smile.
Barney hit .303 in those 22 games, providing an argument against the perception that he is a glove-only infielder. And the Dodgers think highly enough to sit him next to stud prospect Joc Pederson in the clubhouse – these things do not happen on accident -- and the two are often seen chatting quietly, the younger player picking the veteran's brain.
Yet here is Barney, 29 years old, doing all he can to show he deserves a spot on the Dodgers' bench. It's hardly a given, as he's essentially battling Alex Guerrero for a spot. The Dodgers have the right to send Barney to the minors, while Guerrero can refuse to go down.
Barney, who lives in Portland in the offseason, feels like he's playing catchup a bit, as he struggled to find a regular hitting venue in Oregon during the winter. But he shows no signs of nerves, knowing he has time to get his stroke in order.
"Spring training is just that time where a lot of baseball players typically … you're going to question your ability for a day or two when you feel a little bit weird in the cage," he says. "There're still 30-plus days here to get ready for the season, so that's why No. 1 it's your body and nutrition, and continue to knock off the checkpoints that you need to make yourself be more confident heading into Game 1."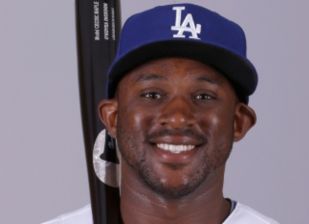 O'Koyea Dickson: Hit 17 home runs and 36 doubles in Double-A last season.
THE PROSPECT
'I'm very thankful to be here'
O'Koyea Dickson knows he'll be playing in Chattanooga or Albuquerque, not Los Angeles, this summer. And he's OK with that. A 25-year-old from San Francisco, Dickson has spent the last four seasons patiently working his way up through the minor leagues.
Last summer at Double-A Chattanooga, he showed good power, hitting .269/.340/.471 with 17 home runs and 36 doubles in 126 games. But he knows he has a long way to go, and is savoring the opportunity provided by his first big league camp.
"I just want to learn as much as I can, try to have fun and work on the things that I need to work on, on a daily basis. At the end of the day, just soak everything in," Dickson says. "I'm very thankful to be here and I've got a lot of veteran guys that I'm already learning a lot from."
Like many of the young players, Dickson, a corner outfielder/first baseman, says he has made a point to approach veterans like Jimmy Rollins and Carl Crawford for advice. But he's also sought out the pitcher's perspective, talking to Erik Bedard, Sergio Santos and Chad Gaudin to gain insight on what they do to keep hitters off balance.
When the work day is done, Dickson says he doesn't hit the golf courses like many players do, but just rests and catches up with family, who are anxious to hear how he is doing in his first big league camp.
"They're checking in every day," Dickson says. "I get about 12-15 text messages asking 'How's it going?' I tell them it's just another day trying to get better."