3 Up, 3 Down: Ravin takes long-awaited step (home) to the majors
---
3 UP, 3 DOWN
The pitch came in at 99 mph. It looked for a split second like it might be heading outside the strike zone, but tailed back over the outside corner for a called strike three. D.J. LeMahieu didn't stand a chance.
That's how Josh Ravin made his major league debut a week ago in Denver, facing a single Rockies batter and striking him out. It's been a long road to the bigs for Ravin, but it's been quite the homecoming for the 6-foot-4 native of the San Fernando Valley.
Ravin was plucked out of Chatsworth High School by the Cincinnati Reds in the fifth round of the 2006 draft. It's been a frustrating journey at times for Ravin, who spent parts of four seasons at the Double-A level alone and at one point worried that he would gain a reputation as being prone to injury.
But here he is pitching for his hometown Dodgers, scrambling to get tickets for friends and family who want to be a part of his journey. Ravin took a moment to speak with SportsNetLA.com for the latest "3 Up, 3 Down":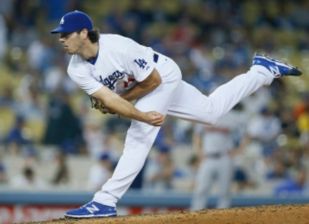 Josh Ravin has a 2.70 ERA through his first three appearances with the Dodgers.
Q: You've been clocked at 100 mph. Have you always been able to throw that hard, and what was it that enabled you to make the final leap to the majors?
A: I've flashed (speed) that in the past, but I'd say for the last two, three years maybe I've actually been showing that consistently. I think it was just being in the bullpen and doing the same thing over and over again, throwing hard and getting a feel for my body and how I need to release and drive to the catcher. I'm able to be more consistent with it, I guess.
Being able to have a secondary pitch to throw behind in the count or for a first-pitch strike (is what made the difference). It's just something to show, because they know I'm coming fastball. Everyone knows that's what I'm bringing and I need to show that because if you don't have anything it doesn't matter how hard you throw, you'll get hit.
Q: What is your impression of the majors so far, and how is it different from the minors?
A: It's pretty awesome, for one. I'm still just taking it day by day, because I don't know. I know I'm part of the team. I want to really feel like I'm part of the team when I'm actually here a good time and I'm happy and successful and helping the team win. I don't really have any expectations. I come in every day and just hope I have another one. That type of thing.
That's the thing. I honestly didn't think I'd be here this long. I thought I'd be here for the doubleheader (last week in Denver) and head back to OKC, so it's pretty cool that I'm still hanging around.
We eat very well (in the majors). You get treated a little differently. The people treat you like you have a status type of thing. I've never been that guy. I still don't think I am, but people are going to treat you that way and it's just the way it is. I don't know. It's cool to just be among the top players in the sport, and in the world, and to compete at that level I think is pretty awesome.
Q: What's it been like being able to play in front of family and friends?
A: Everyone's really excited and happy for me. so that's pretty cool to see everyone's excitement. It seems like they're just as excited and happy as I am, so it's nice.
I've got family here (at the stadium). Friends have been coming for the last two games now. They haven't been bugging me for too many tickets so that's been nice. People come out of nowhere, people you haven't spoken to in years. They're excited for you and happy for you, but they all want to be a part of it and experience it.