3 Up, 3 Down: Charlie Hough talks Dodgers and the dancing knuckler
---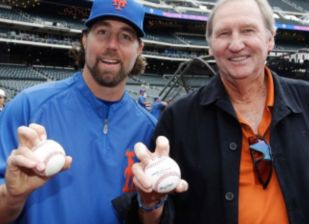 Mets knuckleballer R. A. Dickey poses with with Charlie Hough, one of the best ever.
3 UP, 3 DOWN
It was hard to stand out on the Dodger teams of the 1970s but Charlie Hough did as one of the greatest knuckleball pitchers of all time. A Hawaii-native, Hough came up with the great Dodger teams of the 1970s, went to three World Series in his 10 years with the team and finished his 25-year big-league career with a perfectly even won-loss record of 216-216.
He rose through a minor league system that included Steve Garvey, Ron Cey, Davey Lopes and several other players who would go on to big-league stardom on one of the best teams in baseball. Hough was a reliever with a pitch that was nearly unhittable.
Converted into a starting pitcher when he joined the Texas Rangers in 1980, he used his dancing knuckleball to make his only All-Star appearance in 1986. He's a member of the Texas Rangers Hall of Fame. Hough spent a couple of years with the Chicago White Sox before joining the Florida Marlins in 1993. There he started and won the first game in team history, defeating the Los Angeles Dodgers 6-3. Five years later he was back with the Dodgers as their pitching coach. He now serves as a senior adviser for player development.
We went "3 Up, 3 Down" with Hough to ask him about this year's Dodgers, how they compare to the teams of the 1970s and how he discovered one of the most baffling pitches in baseball.
What do you think of this year's team?
Outstanding team. Hit a little slow spot here recently but this team is loaded up with outstanding athletes and players. I expect them to get a rollin' pretty soon. I was here '74, '77, '78 - lost the World Series three times. We'll see if they can get there. It's the kind of thing you just watch, like me, I pull for them. I'm hopeful, I want them to win. I'm Dodgers, I played here a long time, and I'll be out there for their Hall of Fame weekend. This is my team.
How do they compare to the Dodger teams you played on?
It is hard to compare but truthfully I don't think the game has changed all that much. The outstanding players in any era could play in any other era. There's probably just more media, more fans and it makes it seems a little harder or tougher than it ever was. We had some minor league teams that were just unbelievable. There were some years where we were probably as good as the Dodgers.
How did you discover the knuckleball?
It was kind of a freaky thing. I was a minor league pitcher with a sore arm, heading home pretty soon and a minor league coach asked me if I'd ever tried the knuckleball. My reply was, 'show me how.' This was in the instruction league September '69. August of '70 I was in the big leagues, throwing the knuckleball. The coach was named Gordie Holt. He showed me the knuckleball.