Inside the Game: All-Star Game turns players into fans again
---
INSIDE THE GAME
Scott Van Slyke has not made an All-Star Game but he knows first-hand what a great experience it can be. The Dodger outfielder attended the 1993 game in Camden Yards with his father, Pirate All-Star Andy Van Slyke. He got to see Ken Griffey, Jr. hit a ball off the warehouse in the Home Run Derby.
But the best part came off the field.
"My brother and I were playing Wiffle ball in the hotel and Griffey came by and started playing with us," Van Slyke said. "It was great."
It's a reaction not much different from the guys who get to play in the game they've been watching since they were young. It seems to turn them all into kids.
"I dreamed about it as a kid," said Dodgers' hitting coach Mark McGwire, who was named to 12 All-Star teams in his 16-year career. "I remember coming home from summers at the beach to specifically watch the All-Star Game. It's just one of those things that not everyone gets a chance to do it."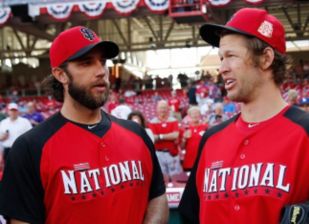 Clayton Kershaw with Giants ace Madison Bumgarner.
The Dodgers had five representatives in this year's game in Cincinnati, including Dodger catcher Yasmani Grandal. In his first All-Star appearance on Tuesday night, he was robbed of a hit in his only at bat. Last week he said it meant a lot to be selected by Giants manager Bruce Bochy.
"I'm humbled by it," he said. "They see that I'm out there playing my heart out every day. I'm just thankful that I get to be a part of it."
Clayton Kershaw was a last minute replacement but the reigning Cy Young and Most Valuable Player award winner was thrilled to be a part of it.
"I'm excited, it's always fun," he said. "I have no pride in how I get there. I don't care if I was the batboy. No one will remember that you were a replacement of a replacement that didn't win the fan vote."
His inclusion this year made him just one of three Dodger pitchers, along with Sandy Koufax and Fernando Valenzuela, to be named to five straight All-Star teams.
"The history here with Dodger pitching is spectacular so anytime you get mentioned with those guys is awesome," he said.
And Kershaw was among several players and former players who said that the best part of the event is not necessarily what happens on the field.
"It's a different environment, meet some new guys around the league," he said. "You play across these guys, you kind of make assumptions of what it's like off the field, it's fun to get to know people away from the field, especially guys that are at the top of their game."
McGwire echoed Kershaw's sentiments and added that other than the World Series and Spring Training it was the only time to share the field with players from the other league.
"I remember sitting and talking with Rob Dibble of the Nasty Boys at the brunch they have before the game," McGwire said. Getting to meet them all and getting to hang out with guys that you respect and get to see play."
Howie Kendrick was not among the Dodgers in this year's game but he made the team in 2011 as a member of the Angels and remembers it fondly.
"For me it was special because I got voted in by the players and that truly means a lot," he said. "The biggest thing is just being at the game itself, watching the Home Run Derby and just being around the greatest players in the game."
Bats and balls are laid out on a table in the clubhouse for all team members to sign and Kendrick said he enjoyed getting signed souvenirs from the other players.
Players who sign thousands of autographs a year again turn into kids as they get keepsakes from the greatest in the game. Dodger manager Don Mattingly played in six straight Mid-Summer Classics in the 1980s but his top memory was getting a piece of memorabilia.
"Getting a signed bat from Rod Carew," he said. "This guy who I had seen play in All-Star games and he signed a bat for me, that was my favorite memory."
The change in rules so that the winning league gets to host the World Series was meant to add importance to the game but Mattingly is not a fan of the switch.
"It should be an exhibition game, get people recognized," he said. "Make it more of a festival."
It certainly was a festival environment surrounding Monday night's Home Run Derby as Dodger outfielder Joc Pederson went down to the wire before losing to hometown favorite Todd Frazier. The crowd and the players seemed equally awed by the new format which had a clock and was roundly praised as the best home run competition ever.
Even though the American League will get to host the World Series it's more likely that memories of Pederson and Frazier blasting balls all over Cincinnati's Great American Ball Park will outlast anything that happened on the field.
Several players said that when it comes to the All-Star Game it's not about the score but the memorable moments.
McGwire instantly recalled watching Pirates' outfielder Dave Parker throwing out a runner at the plate in the Kingdome in 1979. Dodger bench coach Tim Wallach went to five All-Star games and said never getting to start was a blessing in disguise.
"I could sit around with guys on the bench and just talk hitting. The pitchers wouldn't share much but hitters would and every little extra thing you can get from the best hitters in the game helps," he said.
It was from the bench that he saw the hardest hit ball he's ever seen when Bo Jackson led off the 1989 game with a monstrous home run.
"We didn't get to see a whole lot of Bo in the National League," he said. "Just to see where he hit that ball, you could tell everybody was impressed."