3 Up, 3 Down: From Dodger Stadium to the silver screen and back
---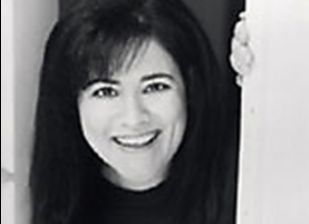 Growing up, Robin Knight attended games in Dodger Stadium in the midst of Fernando-mania. Now she works there during every home game for Major League Baseball and still feels like her dreams have come true every time she gets a, "hi, Robin," from Vin Scully. Along the way she was cast in one of the most iconic baseball movies of all time, A League of Their Own, sharing the screen with Tom Hanks, Geena Davis and Madonna. In this edition of 3 Up, 3 Down, we find out that when it comes to love of the game, Robin Knight's enthusiasm puts her in a league of her own.
Q: What is your baseball background?
A: I was born and raised in Los Angeles and I can't remember Dodger baseball not being a huge part of my life. That has to do with my family, we were always watching the Lakers and the Dodgers. I remember going as a really little kid and not really getting it. I just loved being outside, loved all the things about it, loved watching the players in the outfield and how they moved their feet.
As I got a little older, around 8 or 9, I was such a dork keeping score and kind of making up a way to do play-by-play. I loved all the little moments and being able to play it back like a movie. We sat up top and the players were so far away like little dots. And of course I think of listening to Vin Scully.
But it was all about family. I was blessed with a wonderful family. My mom is a rock. If you look under her shirt there's a cape because she's a superhero. I lost my dad last Christmas and our last conversation was one of our most lucid - him telling me about watching Jackie Robinson at Ebbets when he was little boy. It was as clear as if it had happened earlier that day and he had never told me that before. Jackie Robinson is a big reason why I am a Dodger fan.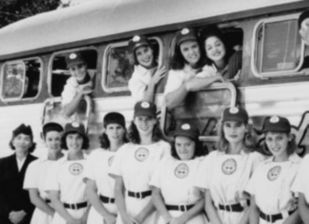 Robin Knight, upper left, as she appeared in the iconic baseball movie A League of Their Own as Beans Babbitt.
Q: What was your experience like in A League of Their Own?
A: Who would ever think as a young girl who was an actor and a baseball player you would get to be in a movie about baseball and get to actually play a baseball player? I didn't know the story of Pepper Paire and the All-American Girls Professional Baseball League and what they did for the war effort. Pepper became like a grandmother to me and I was very touched to be mentioned in her book.
My agent sent me to audition for it. You had to be able to play or be trainable. A big thing is throwing - if you can't throw right you can see that on camera real fast. Once they saw you could play then maybe you would get to read. Every actor around wanted to be in this movie, the batting cages were swarmed. Penny Marshall named my character Beans Babbitt because she said I jumped around all the time like a jumping bean.
I'll always be grateful to Penny for reasons so much more than the movie. She taught me about story, which means so much now as an actor and screenwriter. She's an incredible human being and an incredible artist.
They told us to pack for 10 weeks and it was six months on the shoot. Didn't matter what you packed because you spent so much time in those little skirts.
Movie sets can have a lot of down time but this was so much fun. We got to play at Wrigley Field and Bosse Field in Indiana, which is still a tourist attraction. Tom Hanks and I would play this game where he would go out to second base and I would go to the outfield and he'd try to hit the ball through a hole in the old classic scoreboard. One time he nailed it through there.
Madonna and I were pals during the shoot ... great ensemble. Mo, that's what I called her, was one of the hardest working people. She did not want anyone doing her baseball stuff for her, Geena was the same way. Plus they worked their butts off on any down time, a small group of us would go out and practice practice practice. I teased her that she played baseball like a dancer and she picked on me when we had to do the jitterbug. She said, "yeah, well you dance like a baseball player." We both learned.
I was really young. You knew it was pretty big because of the people in it and the story. I just learned as much as I could.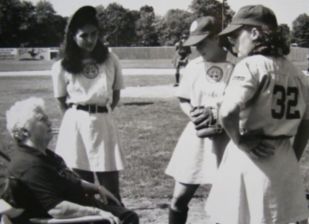 Pepper Paire, left, on the set of A League of Their Own with Robin Knight, second from right.
Q: How did you end up back at Dodger Stadium?
A: In about 2007, when Pitch F/X was brand spanking new I wrote a letter to Sandy Zinn, my wonderful boss. It's calibrated cameras mounted around the stadium that are used to track everything about every pitch, speed, location, what kind of pitch ... everything. My film background, my love of baseball it was perfect. He said something about my letter caught his eye.
After I got the cool Pitch FX gig, Sandy said "there's something else I think you should do, too." I'm also a stats stringer, keeping track of every pitch, play, pickoff attempt, every breath of the game and working with official scorers in creating the final box score. I get to write screenplays with funny, awesome writing partner Tricia Owen. I love being an actor and doing puppetry with great pal Geri Allen. Then I get to go to Dodger Stadium all the time. Writing while overlooking that beautiful field. How cool is that?
When I was going to games as a kid I didn't even know there was a Vin Scully Press Box. Meeting Vin the first time, Mr. Scully, I was just so hopeful because if he was not what I dreamed him to be I would've been disappointed but he's totally that guy. He's the guy that holds the door for everyone.
I get chills every time Vin Scully says, "Hi Robin." I told him, I love baseball because of listening to him.
My child heroes were and are still there. Rick Monday, Jaime Jarin, Tommy Lasorda, Sweet Lou Johnson, Manny Mota. Fernando Valenzuela calls me, 'trouble.
To make my family up there, my bro, Neil, who is now a Giants fan, as well as Dodgers with my sis-in-law, Cindy, my Dodger-loving sis, Lisa and bro-in-law, Bill and the best nieces and nephew in the world, Rachel, Joey & Sarah, it's great.
I got to take my dad up there and he got to talk with Don Sutton. And he got a ball signed by Vin.
I don't take this for granted. I know I'm blessed.