Inside the Game: Players talk about the other side of the autograph game
---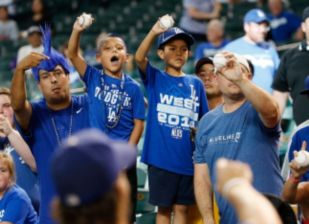 INSIDE THE GAME
The rookie pitcher sat in front of his locker, patiently writing "Zach Lee," on a dozen baseballs that had been left there by a clubhouse attendant.
It was a long way from the first autograph session he ever had. When he was 15 years old and had just made Team USA along with current Dodger Paco Rodriguez, Lee said the players were asked to sign balls.
"I was really excited. They put us in a room for six hours signing balls. We must've signed 400 to 500," Lee said with a smile. "It was not a fun thing to do."
He makes time for it and it's not always work.
"Signing for charity, signing for kids, I enjoy that," he said.
Boxes of balls to be signed for a charity event awaited each player at his locker this week. Outside hundreds of fans would scream their names, asking them to sign as they came on to the field to warm up. More fans would wait at the exit of the players' parking lot looking for signatures after the game. Restaurants, malls, hotels on the road - all are places where players are greeted by those holding pens and balls.
Welcome to the other side of the signature hunt, where every moment is fair game for kids and collectors.
"I never collected them but it's one of those things where the autograph seems to be beside the point," Lee said. "It's the memory, the memory of meeting this person that means something."
But the memory is beside the point for many of these collectors in a ballooning autograph market.
A quick internet search shows that a Clayton Kershaw ball with a certificate of authenticity can be had for anywhere from $60 to $250. Add a Sandy Koufax signature to Kershaw's and the online auction bidding starts at $500. A ball signed by Babe Ruth, made out to fellow Hall of Famer Ted Williams, was sold for $388,375 in 2012.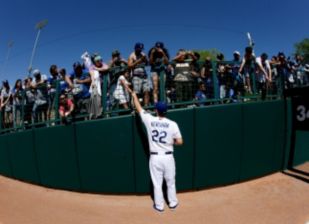 The increase in money has made fans a bit more aggressive and led to some players being resentful.
Hall of Famer Reggie Jackson had to issue an apology for a profanity-laced tirade he went on outside of a restaurant in Cooperstown, NY last week. In town for the Hall of Fame induction ceremonies, Mr. October indicated he was irritated by autograph seekers taking advantage of his time by trying to get multiple signatures.
Dodger pitcher Mike Bolsinger agrees that fans are more aggressive.
"It's crazy now, they're not hesitant to just scream out and ask for the autograph," Bolsinger said with a laugh. "They yell 'gimme the ball,' and I'm just like, 'wow, I guess.'"
Still, Bolsinger takes time before each game and even signed during a rain delay on a day he was pitching in Washington, D.C., recently.
"It's pretty fun to meet and talk to people from every city we go to," he said.
And he gets it. Although he was never a big collector growing up, mostly because he says he was very shy, he did get a few at Wrigley Field in Chicago.
"We mostly went there to watch the game," he said. "I got an autograph form Mark Grace. I still have it at my parent's house."
Bolsinger had the rarest of occurrences of autograph seekers when he was coached by Grace at the big-league level while both were with the Arizona Diamondbacks last season.
Dodger shortstop Jimmy Rollins said he never understood asking for autographs.
"For us, it was enough to get a wink and nod from a player," he said.
Utility player Kiké Hernandez grew up in Puerto Rico so he had limited exposure to Major League players.
"The only year I went to games in winter ball was when my dad coached. My dad was like don't bother guys, they're working," Hernandez said.
He added that although he was just 10 years old he thought of himself as being part of the team because he practiced with the players and did the same drills.
His first exposure to the world of autographs happened when he started to stand out as a ballplayer in high school.
"The first time my classmates were joking around asking for my autograph, saying I was going to make it big," Hernandez said. "When I got to pro ball it became something normal."
He sees signing autographs as part of the job.
"It's fine when little kids do it but it's strange to see 40 and 50-year-old people waiting outside a hotel, fighting for an autograph," he said. "I think it's fine when you're at the field."
He said he doesn't like that many people are just trying to sell them or when they get angry if he doesn't have time to sign when he's away from the ballpark.
Dodger coach Davey Lopes said the only time autograph requests annoyed him was when he was away from the field.
"The fork goes up to your mouth and someone says, 'can I have an autograph?'" he said. "Some would get shrewd and they would send their little girl up. I would ask who sent you over. Then I'd sign."
Lopes said it came with the territory especially being part of one of the more popular teams in the 1970s.
"There was only one Game of the Week and we were usually on it so we got recognized," Lopes said.
Although his favorite story involves a woman who wasn't sure if she recognized him.
"Had this lady come out of a restuarant in LA and she says, 'you look just like Davey Lopes.' I said 'I am him.' She said, 'no you're not.' So we're going back n forth," Lopes recalls the story from nearly 40 years ago.
She didn't ask for his autograph but she did want to see his driver's license.
"I did show her and she thought it was a fake ID."