Colletti: How two Dodger blockbuster trades came together
---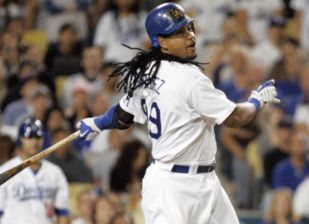 Manny Ramirez hit .396 with 17 home runs and 53 RBIs in just 53 games with the Dodgers in 2008.
LOS ANGELES -- The trade deadline is an exciting time for baseball fans, and it can be a whirlwind for team executives. There is so much that has to fall into place as the clock ticks down.
But what most people don't realize is that when you get toward the deadline, you really are fine-tuning discussions that you've had throughout the season or even going back to a year or two before. In some of the deals, you plant a seed and don't have an opportunity to harvest until a long time later.
General managers are always talking to each other, particularly around this time of year. During my tenure as Dodgers general manager, I would say that especially during the last two weeks of July and through August, I would talk to anywhere from 10-15 general managers pretty much every day or every other day. General managers we did not have as much in common to discuss I would talk to about every three or four days.
You do it to establish relationships and also to learn to read the other person. You can learn from even a casual conversation – when they're anxious and when they're not, for instance. You learn to listen. Then, when you have business to conduct you have a good idea of who you're talking to. It's like poker.
Texting is a big part of communication, too, but for me the conversation on the phone or face-to-face always had so much more value.
Many times trades come about as a result of these conversations over time. They might seem like they come together at the last minute but it's these casual talks and the constant communication that let you know what another general manager is looking for – and what he might be open to.
I made multiple trades as Dodgers GM that came about this way. I want to talk about two of them here.
July 31, 2008: The Dodgers acquire Manny Ramirez from the Boston Red Sox in a three-team trade. Dodgers send Andy LaRoche and Bryan Morris to the Pittsburgh Pirates. Boston sends Craig Hansen and Brandon Moss to Pittsburgh for Jason Bay.
This was a very big trade for us. We had a contending team but were beset by injuries. We needed some offense and Manny gave it to us, hitting .396 with 17 home runs and 53 RBIs, and finishing fourth in the NL MVP voting despite playing only 53 regular season games for us.
But it actually took a long time for this deal to happen. Theo Epstein, the Red Sox GM at the time, first asked me about Manny at the Winter Meetings in December of 2006. It was just Theo and I. I didn't want it to be a big production and neither did he because he didn't know what he was going to do. We had some desirable young players coming into their own at the time – Andre Ethier, Matt Kemp, Russell Martin, James Loney – and Theo asked me if I would have interest in Manny. Theo and I talked for a couple of days at the Winter Meetings and nothing came from it. But it gave him an idea of who I valued on our club prospect-wise and it also told me that Manny wasn't off the board completely.
Now fast-forward to the summer of 2008. We were doing OK but the injuries were taking their toll. Andy LaRoche missed the first half of the season, Rafael Furcal hurt his back and was out more than three months. Nomar Garciaparra missed all of May and June. We needed to add to the club, particularly on the left side of the infield.
We'd made a big overture to Cleveland in an attempt to add CC Sabathia, Casey Blake and Jamey Carroll, That fell through, but at the last minute we were able to go back and get Blake.
About 10 days before the deadline, Theo called and said he wanted LaRoche. I thought that was an interesting request since they already had Kevin Youkilis and Mike Lowell, leading me to think it was probably a three-team trade.
But Theo was only offering me a pitcher I wasn't thrilled with – a 4-A type who was successful in the minor leagues but couldn't seem to get the hang of it in the majors – so I declined.
The day before the deadline, Theo called again, and this time he pushed harder, but I still wasn't motivated to make a deal. Then I saw a report on TV that Boston was considering trading Manny Ramirez to Florida, and that the Pirates would trade Jason Bay to Boston for prospects. Florida would also send prospects to the Pirates in the deal. Now I knew Pittsburgh was the third team and that Manny was on the table.
After our game that night I approached our manager, Joe Torre, and asked him what he would think about potentially managing Manny Ramirez. He said: "Are you kidding me? He's as good a hitter as there is. He could really help this club."
After about two hours of sleep I woke up and had a message waiting for me from Theo. He was asking about Manny. I called him back and let him know I was interested in the right situation – meaning we couldn't take on any salary. I kept ownership in the loop and got the same reminder – no added salary.
We got in touch with Pirates GM Neal Huntington, who wanted LaRoche and another player, and our staff worked the rest of the morning to hammer out the deal.
We also made sure to keep MLB officials in the loop the whole way, as with a deal of this magnitude -- especially considering the amount of money that was involved -- you didn't want anything hanging it up. MLB had to understand every aspect of the deal and it had to be approved before the 1 p.m. PT deadline.
The next day Manny was playing left field for us at Dodger Stadium against Arizona. We lost to Randy Johnson 2-1, but Manny went 2-for-4 and that was the most excited I'd seen Dodger Stadium in a long time.
Aug. 25, 2012: Dodgers acquire Adrian Gonzalez, Carl Crawford, Josh Beckett, Nick Punto and cash from the Boston Red Sox for Ivan De Jesus, James Loney, Allen Webster and two players to be named later (Rubby De La Rosa, Jerry Sands).
Much like the Manny trade, this deal came about as a result of many conversations with Boston, only this time the GM was Ben Cherrington as Theo Epstein had moved on to the Cubs.
I planted the seed back in April of that year when I told Ben I needed a first baseman and was interested in Adrian Gonzalez. I had seen enough of him during his time with San Diego to know the damage he could do. But Ben, naturally, was not interested in trading away a star at the start of the season.
In May the dynamics changed quite a bit as the Guggenheim ownership group took over. They wanted us to take a new direction, to really fortify and revitalize the franchise. I was told to think big, and to go after players I liked but would not have been able to go after in the past. So I kept after Adrian.
Every time I would talk to Ben, probably every three or four weeks, he would talk to me about different players he was trying to move. And I would always finish the conversation by saying, "hey, don't forget we've got interest in Adrian."
Boston was struggling a bit, but Ben would hold firm, saying he couldn't trade someone of that magnitude that early in the season. This went on for months.
Meanwhile, we continued to remake our team as the season continued. On July 25 we made a deal with the Marlins for Hanley Ramirez. On July 30 we acquired Brandon League from Seattle, a move that allowed us to send reliever Josh Lindblom to the Phillies for Shane Victorino a day later.
But the deadline passed without Boston budging on Adrian Gonzalez. We could still make a deal through the end of August, but any players traded would have to make it through waivers.
There was an ownership meeting that August, and Stan Kasten and Mark Walter met with Red Sox ownership to discuss what it would take financially to get Adrian Gonzalez and others out of Boston.
Then, as we got to late August, Ben called and we started to talk deeper, eventually coming up with a historic deal in which nine players and $250 million changed hands – amazing considering all nine needed to clear waivers.
There may never be another deal of that magnitude, with that much financial impact attached to it, ever. That and the deals that were made earlier brought the luster back to the franchise.
And it was a great opening year for our ownership, because it illustrated to the fan base that they were serious, that they were ready to make a big statement.
Ned Colletti is a Special Advisor to Dodgers President and CEO Stan Kasten, and an analyst on Time Warner Cable SportsNetLA. He's in his 34th year in Major League Baseball and spent nine years as the Dodgers' general manager, winning more games than any other NL GM during that time. The Dodgers made the playoffs in five of his nine seasons, which matched the best nine-year stretch in the history of the LA Dodgers.