3 Up, 3 Down: Rollins on state of the Dodgers, hitting slumps, more
---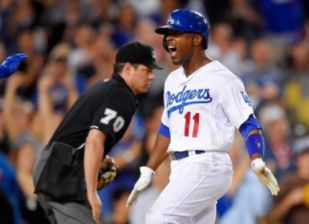 3 UP, 3 DOWN
LOS ANGELES – Jimmy Rollins' transition to the West Coast hasn't been as seamless as some Dodger fans might have hoped. He hit just .213 in the first half and was gradually dropped down the batting order as he continued to struggle at the plate.
Some fans, viewing Rollins as little more than a stopgap until the arrival of stud prospect Corey Seager, were ready to pull the plug and hand the job to the 21-year-old ASAP.
Rollins was aware of all of this. He knew Seager was waiting in the wings, he knew the fans wanted more offense out of his bat, and he knew how eager they are for the team to end a championship drought that has stretched all the way back to 1988.
But despite all of this, he never felt any reason to panic or lose confidence, remaining the epitome of veteran cool. Rollins didn't sweat his slide down the batting order and continued to give the Dodgers strong defense up the middle and veteran leadership in the clubhouse, all while trusting that his bat would come around.
And now, it seems it has. The 16-year veteran is hitting .269 since the All-Star break and .306 in the month of August, and he's reclaimed his spot atop the lineup. The balls that weren't falling in are finding holes now and he's making an impact beyond his glove.
As manager Don Mattingly said of Rollins' recent play last weekend:
"It's almost like 'OK, this is the time of year that I need to play well, and this is what I'm here for.' And really he's showing that leadership and experience of playing in a lot of big games and a lot of big situations. This is not too fast for him at all, and he seems more calm than almost all of our guys."
For our latest edition of "3 Up, 3 Down," Rollins took some time to share his thoughts about the state of team, how the Dodgers are perceived outside of Los Angeles, how he dealt with his first-half slump and what he learned about winning during his 15 seasons in Philadelphia.
Q: How do you feel your transition to Los Angeles has gone, and what do you think of this team and the franchise as a whole?
A: It's been great. Obviously the most important thing is baseball. Everything is secondary after that, and on the field we're right where we want to be in the thick of things. A couple games up, so we have to play all the way through, this isn't going to be a cake walk. And that's a good thing. That's how you want it, you don't want to coast.
This team in the past has had leads and great teams and great talents and just hasn't been able to get over that last hump. So when you're in a situation where you're fighting all year long, you learn how to fight when things get tough. We're doing that right now. That part was expected, but the most important thing is competing and being in first place.
--- --- ---
The Dodgers are a great organization. Obviously on this side it's different than looking across (the field). When you're looking across all you want to do is beat the Dodgers. You just want to beat the bricks off the Dodgers.
There is definitely a pride about this organization, putting on this uniform, the history, everyone knows all about it. Being on the inside, it's your job to defend that. I know what it's like on the other side so I know that when teams get here and it always seems like definitely that first night, first game of a series, I mean you're getting their best stuff. They're in LA. It's the bright lights, it's the stage, and 'we're gonna beat the Dodgers.'
But ultimately, if you don't win the first game you have to find a way to win the series, and we've been able to do that, especially at home. You know you're going to get everybody's best when you put on this uniform. It doesn't matter if it's the worst team or the best team in the league, you're gonna get their best because they want to beat everything about LA, and we're the team that represents LA the most.
--- --- ---
The teammates are good, I like the way we go about our business. We find ways to win games. Obviously there're always going to be games that you lose and you throw your hands up like 'what happened? How did that happen? That happened fast.' But you can't let those losses stop you. A great team is still gonna lose 62 games. Might win 100, still gonna lose 62 games. So you have to keep things in perspective and we've done a pretty good job of doing that.
Donnie does a good job of looking at the future and giving guys rest even though you don't want it, just take one, you know? Understand that you're still gonna lose at least 62 games, so you're gonna need this day (off), because we're gonna need you for the next 20 or 30. He gets that. That comes from playing but also just keeping a thumb on the temperature of the club, how guys are doing. That's what the managers do more than just game calling. They manage personalities and have to keep things, I guess, under some sort of control.
He doesn't change. Every once in a while, if he sees something on the field that's just dumb, he'll come in and even if the camera's on him you can't tell that he's pissed. But you hear it in his voice and it's like 'yeah you're really upset right now.' But that isn't often. He understands mistakes are gonna happen. Physical mistakes, no one likes them but you live with them. But the mental mistakes, those can be avoided. That's when you see Donnie get a little heated, with the mental mistakes.
Q: Mattingly has praised you for remaining calm despite some early struggles at the plate. How have you personally dealt with the challenges you've faced this season?
A: I'm sure everyone will want more offense, no doubt about that. But fortunately we do have a lot of offense that was able to offset (my struggles) earlier. Lately I've been able to contribute and when you're on the field it doesn't matter what you're doing, you want to contribute in some way. Early, my biggest contribution was being able to work through the hard times.
I'm not gonna get down, I'm not gonna get defeated. I'm not gonna get depressed and 'oh, woe is me.' I have a job to do. The pitchers rely on me to catch the ball, my teammates rely on me to catch the balls, make the plays, to make sure guys are in the right position, to make sure I'm doing things right. I have to do those things. The other part, you have to just believe that it will come. You keep working and you trust that it shows up on the field as far as results. And it's like 'wow, all that work finally paid off.'
That doesn't matter if you've played one year, or 30 years, that's always going to be the case. But you have to find a way to contribute somehow and I was able to keep that part going until the hitting caught up.
Q: You mentioned earlier that the Dodgers were never able to get over the World Series hump. You and your Phillies teams were a big reason for that. What was it about those Phillies that made them so good?
A: (Laughs) I was doing my job.
We all grew up together and we all learned how to win together. We all went through battles together, starting early. Maybe late '05 and once again in late '06 and then 2007 once the Braves finally lost that crown, it was like the legend just fell down. Like 'wow you mean they actually can lose a division?' And the Mets won, and I was like 'well shoot, if the Mets can win than anybody can win.' And it was less about the Mets and more about the fact that the Braves don't have that lock on it anymore, that mythical lock that they had on the division was gone. The Mets were a good team, but they were a team that we played very well all year long. And I just thought 'it's our turn,' you know?
Somebody had to knock them off, now it's our turn to claim it. We were able to do that for five straight years. But we went through battles together and that's just not something that happens overnight. It happened over years. We won, then we won again, then we won again and the confidence just kept growing and growing and growing. Although we only have one World Series ring to show for it, we knew we could play with anybody in Major League Baseball. Regardless of the circumstance, regardless of who is on that team, we can play with them.
Bonus question: Are there any parallels to this Dodgers team?
A: Hopefully. It'll have to be a lot longer (before we know). Hopefully you ask me this question in a couple of years.