3 Up, 3 Down: Juan Nicasio, the farmer-turned-pitcher
---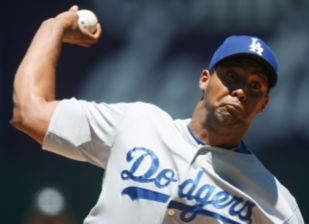 3 UP, 3 DOWN
LOS ANGELES -- Baseball is a big part of life for many young kids growing up in the Dominican Republic. But things were different for Juan Nicasio, who grew up knowing a whole lot about one thing: Farming.
Nicasio learned the trade from his father. It was hard work, but it was something he grew to love. He didn't really give baseball a second thought until he was 18 and a cousin who was training seriously got him to practice with him. That's when Nicasio realized he had some talent. He eventually signed a contract with the Colorado Rockies just a few days shy of his 20th birthday, much older than most players.
That started his journey to the major leagues, in which Nicasio has shown flashes of brilliance and a lightning arm, as well as touches of rawness and inconsistency. Through it all he has kept an amiable attitude, worked hard to improve his English and helped younger Latin players adjust to the big leagues.
Nicasio is still only 29 years old, but he knows where he'll be when his major league dream is over. He'll be back in the Dominican Republic, enjoying life on the farm.
Nicasio took a moment to speak with us in the latest edition of "3 Up, 3 Down."
Q: How did you get started in baseball, and can you explain the importance of the sport in the Dominican culture?
A: "I realized I was going to be a pro very late. I was 18 years old and I hadn't really played. I only practiced for about a year before I came here. I signed very quickly and I was on the older side, 18 years old.
I never played baseball growing up. I was busy working on a farm with my dad. It was later that I started to practice with a cousin who was signed by Detroit, Gustavo Jimenez. I practiced a lot with him and I developed my game and Colorado finally signed me. They gave me an opportunity and it was with them that I reached the majors.
My dad used to play, not professionally, but he played a lot. I would go to his games when I was a kid. I liked it, but I never really thought I could play professionally. I liked watching baseball. Watching the competition and guys like Sammy Sosa was fun. I was always watching guys like Pedro Martinez.
I was always talented but I hadn't developed it. I was very busy with my dad's farm. I didn't have time to practice. It was later that I realized that I could really play.
I think there's a lot of competition and we grow up with a lot of idols. You see guys like Pedro Martinez and you want to be great like them. That's part of the reason why we put so much effort into the game."
Q: What would you be doing if not for baseball?
A: "I would be in the farm working with my dad. Taking care of cows and playing around. I always liked working there.
I was always following my dad when I was a little kid, so from very early on I started working with him. It's like they say: you do what you're taught to do. If someone teaches you to work on a farm when you're growing up, that's what you do and that's what you like to do. It's the same thing with everything. If you teach a young kid to play baseball, when he grows up that's probably what's he's going to like to do. I was taught to work on a farm. I had to guide the cows from place to place, cut cocoa leaves, and many other small jobs. Growing up I didn't have to do the same work as the grown-ups, but they kept me busy.
When you grow up like that, you get used to waking up very early, like at 4 in the morning, so I always had a good work ethic. I was always with my dad. If he got up to work at 4, I would get up with him and go to work.
(My dad) is very happy for me and he's very proud of what I have been able to achieve. Now I go to the farm for vacations, but they don't like that I visit too much. It can be dangerous now because people start knowing who you are. ... I will go back to the Dominican Republic as soon as all of this is over."
Q: How has it been adjusting to life in the U.S.?
A: "It's a bit difficult for us Latin players when we come from countries like the Dominican Republic. We don't speak English. That's one of the most difficult things for us, the language. The food is another important part of it for me. Food is different back in our countries and it takes some time to get used to the food here in the United States. But still, it's a very nice experience to go through all this. To go through the minor leagues all the way to the majors.
2007 was my first year here. I played almost four years in the minors before moving to the majors, where I've been for almost five years now. It has been a nice experience. It was around the third year here that was finally able to speak English a little bit. It was a better experience then because I was able to go to restaurants and ask for what I actually wanted. Before, I would go to a restaurant I would have to look at a picture in the menu and ask for that, but you didn't get what you asked for or you didn't like it. You adapt little by little and you learn.
I have to learn English well, it's an obligation because you make friends here and they don't speak Spanish. You want to keep and grow those relationships.
We have a lot of players who speak both languages. I can now help some of the Latin players who don't speak English and are new. I can translate for them like others translated for me when I first got here. There's always a Latin player who speaks English and is ready to translate for you, and that's how that works."