Inside the Game: On historic, bizarre and routine plays, Ed Munson keeps the score
---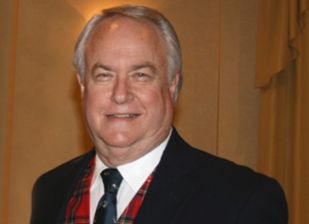 INSIDE THE GAME
LOS ANGELES -- Dodger left fielder Andre Ethier sprinted toward the corner for a first-inning fly ball that bounced off the warning track, caromed off the left field foul pole and back into the field of play. The batter, Josh Reddick, raced into third with what looked like a triple.
But the umpires sent him back to second base. High above in the press box, experienced baseball writers struggled to make sense of the ruling. But one man knew exactly what the call was – official scorer Ed Munson.
"You have to imagine where the ball would've gone," Munson said. "It would've continued into the stands for a ground-rule double."
Charged with interpreting calls, recording every pitch and preserving the sanctity of the national pastime, an official scorer is baseball's onsite judge. And in Munson, the Dodgers and the Angels have one of the most respected in all of baseball.
Hits, errors, wild pitches, passed balls and walks are just a slice of the plays Munson has been making rulings on since 1980. He's scored more than 3,500 games including more than a dozen playoff series, two All-Star games and the 2002 World Series. From 1980 to June of 2006 he had a Ripkenesque streak of scoring 2,003 consecutive Angels games.
"I know the rules better than anybody and it's an interpretation of the rules," he said. "That's what we're supposed to do."
His decisions carry the potential of ending hitting streaks, breaking up no-hitters and changing batting and earned run averages. That's not Munson's concern. He strives to be, "honest, fair and consistent."
"I give it my best shot on every day, every play," Munson said.
That doesn't mean he hasn't faced the wrath of angry players, managers, team officials and baseball analysts.
His favorite story involves Texas Rangers manager Doug Rader and outfielder Billy Sample and a play from the early 1980s. Sample led off with a two-hopper to Angel third baseman Ron Jackson, who put his glove up and watched the ball sail past into left field.
"Error, five," said Munson, giving the numerical representation of a third baseman. "I didn't think anything else about it."
But it wasn't over. In the third inning, Rader got on the dugout phone and called Munson in the press box.
"'Hey Ed, this is Doug. That ball that Samp hit to third base in the first inning, that's got to be a hit,'" Munson recalled. "I said Doug, 'sorry that's an error, a major league third baseman has to make that play.'"
Rader replied, "Who says he's a major league third baseman?"
The call stood even after Rader slammed the phone so hard that he broke it. Munson laughs about it and tells the story often, as does Sample, who he now counts among his friends.
He remembers getting plenty of calls from another third baseman, the Angels' slick-fielding Doug DeCinces.
"If I got 10 calls a year, five of them would be from Doug," Munson said, describing how he could hear the other players laughing in the background. "He'd say, 'you're penalizing me for being a good fielder.' I said, 'no, I'm penalizing you, 'cause you made an error.'"
DeCinces called and apologized to Munson after he retired for hassling him about so many calls. Munson, who also counts DeCinces among his friends, said he never thought anything about it and he never changed one of the calls.
Add a wry sense of humor to a keen eye and a photographic memory to the skillset that has enabled Munson to score games for 36 seasons.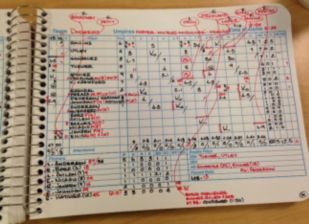 Munson's official scorebook after a 14-inning Dodger victory.
It's not the career he envisioned when he saw the first of his 11 no-hitters as a fan in the left field stands at Dodger Stadium 50 years ago. Sandy Koufax threw a perfect game in what was a double no-hitter into the seventh inning of a game that ended 1-0. Munson was hooked on baseball.
A few years later, his boss at a local newspaper hooked him up with Gene Autry, owner of the Angels. The Angels were looking for a publicity director and in his first meeting Autry, the owner said, "we need a young guy to keep track of us old guys. If you're interested, you're hired."
He took the job and during the 1970s became very close with Dodger great Don Drysdale, who he then worked with at ABC.
"Don used to tell me all the time, you've got to get back into baseball and that led to the official scoring job with the Angels. In 1997, he added the Dodgers to his schedule and now he splits time between the two teams.
His years of feeding baseball tidbits to Autry and writing pages of game notes for the Angels, prepared him well for a job where statistics are king. Munson was the first to keep pitch counts in the 1980s, a standard practice now. And his scorebook after the game is a multi-colored menagerie of names, lines, circles that makes the most chaotic game easily interpreted. Within five minutes of the game's end he turns in the official stats for the game.
Inquiries and disputes can be made to Major League Baseball up to 24 hours after a game, 72 hours in some cases, and Munson is fine with that. He echoes umpires adapting to instant replay review when he says the goal is to get it right.
It used to be the beat writers who scored the games, but an incident involving a potential Nolan Ryan no-hitter in 1979 changed that. The game was nationally televised and announcer Howard Cosell went off on a scorer who ruled an error when Rick Miller dove for, and missed an eighth-inning line drive. The no-hitter was broken up in the ninth inning and after that, it was determined that regular beat writers shouldn't make rulings on the teams they were covering.
No-hitters are often at the center of controversies involving official scorers, who much like offensive lineman in football are only in the public eye when they are perceived to have, well, made an error.
Despite scoring more than 3,500 games, Munson has only scored two no-hitters. He was not on hand when the Cubs' Jake Arrieta no-hit the Dodgers last month. A third inning laser that bounced off the glove of Chicago second baseman Starlin Castro was ruled an error by scorer Jerry White. There was much talk about the play but White stood by the call after watching multiple replays. Even Arrieta thought it was a hit, but the call stood.
Munson said scorers need to be definitive and the let the appeal process work itself out.
"When you're in the ninth inning and that guy hasn't given up a hit, you know what's going on," he said. "But a hit in the first inning should be a hit in the ninth inning."
That means bringing his same interpretation of the game to the first and the ninth inning.
"The old school way of thinking is that the first hit should be clean but that just doesn't always work out," he said. "You gotta be careful, know the rules, know the nuances of the game and know that somebody may disagree with you."
Munson said the scorers should not be part of the story line. But it doesn't mean he hasn't collected his share of stories through the years. He rattles off a series of unusual plays involving balks, players sliding past bases and a call he got from an outraged fan.
"I don't know how this guy tracked me down, must've been in a fantasy league but he was upset that a ball in the hole where the shortstop had no chance at getting the batter, threw to third for an out. Fielder's choice, no hit," Munson said. "An out was recorded, no hit."
Another time, an ESPN analyst who he refused to name ripped into Munson during a game about a caught stealing call. Munson finally had to exercise his judicial powers over the situation and said, "sit down! I'm not going to tell you one more time."
He plans to share those stories in a book some day, highlighted by one of the most well-worn – the Billy Sample and Doug Rader story. Sample uses the story during speaking engagements and recently told Munson that if he had called it a hit, he wouldn't have his favorite story.