Impact Play: Ellis' home run proves to be game-winner for Dodgers
---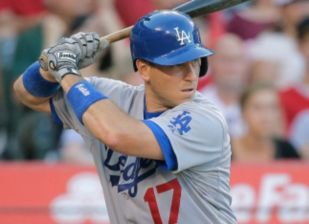 IMPACT PLAY
PHOENIX -- It didn't seem like that big of a deal at the time, just a garbage time run in what would be an easy Dodgers victory.
But after Kenley Jansen got himself in trouble in the ninth, and a 4-0 lead turned into a white-knuckle, 4-3 victory, A.J. Ellis' solo home run in the eighth inning proved to be the game-winning run.
While Ellis ended up being the Dodgers' hero on Sunday, he's actually been coming to the team's rescue for some time now.
Yes, he's hitting only .231 on the season, but that number doesn't really tell the whole story. Ellis has always had a good eye at the plate, and his .347 on-base percentage speaks to that.
On top of that, his early-season struggles dug a big hole for him to climb out of -- and that's exactly what he's been doing over the last two-plus months.
Ellis hit just .150 in April and .129 in May as he struggled to adjust to being the backup to offseason acquisition Yasmani Grandal. He could frequently be seen taking early batting practice at Dodger Stadium, and has been on record as saying he worked with hitting coach Mark McGwire to simplify his swing.
The work is paying off.
All five of Ellis' home runs this year have come since the start of July, and he is hitting .254 with a .380 on-base percentage and .390 slugging percentage in the second half.
He also has a .909 OPS over the last month, and has walked as many times as he has struck out (eight each) during that span.
Perhaps most important for the Dodgers, Ellis' bat has heated up at the exact same time that Grandal's has cooled. Grandal has not had a hit since Aug. 16 -- nearly a month -- and is 0-for-36 during that time.
But with Ellis' surge, the Dodgers have continued to get offensive production from the catcher position.