Impact Play: Early offense pays off for Dodgers
---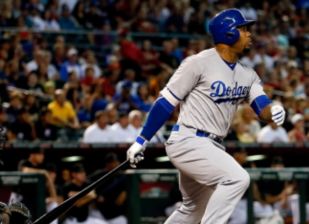 IMPACT PLAY
PHOENIX – The Dodgers' offense is hard to stop when players are hitting home runs. When they get them early, things are even better.
Carl Crawford saw to that on Saturday night against the Arizona Diamondbacks, leading off the game with a line drive home run.
That was the third time in the last four games that the Dodgers have led off the game with a home run -- rookie Scott Schebler homered against the Angels on Wednesday, and Justin Ruggiano did it on Tuesday, also against the Angels.
In addition to Crawford's home run on Saturday, the Dodgers also got early blasts from Adrian Gonzalez and Joc Pederson in the third, giving them a 7-0 lead. (Watch them all here)
When the Dodgers get an early lead, especially a big one like that, they tend not to give it up. In fact, the Dodgers are 48-13 when leading after three innings, a 79.7 percent winning percentage.
The magic run on Saturday though, came on Corey Seager's home run in the fifth, the rookie's first big league blast. That homer provided the Dodgers' their eighth run of the game.
Why was that key? The Dodgers are now 18-0 when scoring at least eight runs.