3 Up, 3 Down: Third base coach Ron Roenicke is happy to be back in LA
---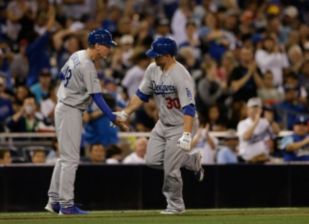 3 UP, 3 DOWN
A Southern California native, Ron Roenicke was drafted by the Dodgers in 1970s, played for them in the 1980s and coached them in the 1990s. He was a a coach for the World Champion Anaheim Angels in 2002 and managed the Milwaukee Brewers to their best record ever in 2010. He was fired after the Brewers got off to a slow start this season but he wasn't out of baseball long.
Roenicke was lured back to Dodger Stadium in August. He's been coaching third base during the Dodgers' recent 16-5 stretch that has seen them open a sizable lead in the National League West Division. We went "3 Up, 3 Down," with the third base coach who is happy to be back home.
Q: What is your connection to Los Angeles?
A: I was here for obviously a long time and grew up here and grew up a Dodger fan. I was drafted by the Dodgers, came through here and when I finished my playing career, they asked me to coach. Coached here a long time - from '91 to '98.
It's nice walking in thinking I didn't really know anybody because I didn't really know any of the coaches other than Tim Wallach and I played with Davey (Lopes). Didn't know anybody in the front office. And yet when I walked in I see Jamie Jarin, I see Rick Monday, it really was nice, feeling like okay, these are guys that I was with of course. So that was pretty cool.
Q: What are your expectations?
A: The goal is to win obviously and that's part of the reason I came when Donnie (Mattingly) asked me was because of where the team was. I felt like it was a team that could get into the playoffs and that made a difference with me helping out here. I didn't know Donnie real well, couple of dinners with him. And saying hi over the years for quite a few years with the Yankees coming to town and just saying hi.
Because I haven't been on third base in a quite a while, just trying to get back to the right thinking, the right positioning, making sure all the guys have the signs right, I spent so much time doing that. I really wasn't comfortable the first couple of days. I'm a lot more comfortable now and just now probably starting to open up more.
Q: Is it more difficult to learn the signs or the personnel and how do you deal with getting guys thrown out?
A: Probably the personnel. Most of them I went over with Don probably the first three-five days. I kept going over the signs and making sure we got them right. Went over the signs with the players and that hasn't been too bad. Personnel is always difficult because it's not just getting to know them, it's speed and I need to know what kind of instincts they have and I also need to talk with the trainers to find out if someone has an issue with a leg I need to know about that. So I've been busy plus just learning all the names.
I think it's always been the case with signs to make them difficult enough with the other team that their manager or coach whoever is trying to pick up your signs that they can't get 'em but you got to make them simple. You can't make them so difficult that your own players can't get them – that never works. The Simpler the better. Sometimes you get into different signs for different guys.
That's the job, it's always been the job, when I was doing this for Anaheim for all the years I did it, I felt really good there. Knowing already what the job is all about, I know I'm going to mess up, there's no question that I'm going to mess up and I know it's going to come down on me. That's the job and that's okay.