Impact Play: Austin Barnes pinch hits, picks up first RBI, ties game in 7th
---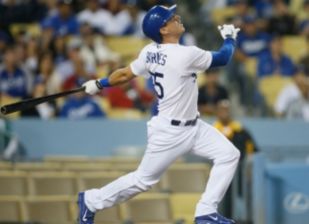 IMPACT PLAY
The Dodgers trailed 3-2 in the seventh inning with runners on the corners and rookie Joc Pederson due up with one out. The Dodgers needed a fly ball to tie the game. Pederson has struggled to make contact at times this year, as evidenced by his 158 strikeouts.
Manager Don Mattingly called on recent rookie call up Austin Barnes to pinch hit. Barnes was hitting just .211 with five strikeouts in 24 plate appearances. He was also looking for his first career run batted in.
And on the second pitch he lifted a sky high pop up into shallow left field. It wasn't deep enough to score the speedy Jimmy Rollins from third except that it was perfectly place. It fell in between three Colorado Rockies and the run scored. Tie game and Austin Barnes had his first career RBI.
Nine innings later the Dodgers had another shot to bring in a man from third but lost, falling 5-4 in their longest game of the year.