Mattingly, Dodgers Agree To Part Ways
---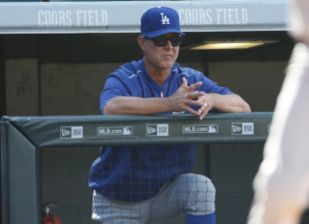 LOS ANGELES – The Los Angeles Dodgers and Don Mattingly have mutually agreed to part ways, the Dodgers announced on Thursday morning.
"As our end of season process began, we discussed the past year, our future goals, necessary changes, roster needs and other matters relating to next year's campaign," said Dodgers President of Baseball Operations Andrew Friedman in a statement from the Dodgers.
"As the dialogue progressed daily, it evolved to a point where we all agreed that it might be best for both sides to start fresh. We decided to think about it for a couple of days and when we spoke again, we felt comfortable that this was the direction to go. I have the utmost respect for Donnie and thoroughly enjoyed working with him this past season. I want to thank him for his hard work and collaboration, as well as his accomplishments, including three consecutive National League West titles. I wish him nothing but success in the future," he added.
Friedman, General Manager Farhan Zaidi and Senior Vice-President of Baseball Operations Josh Byrnes met and talked extensively with Mattingly for several days following the conclusion of the season, the statement read.

"I'm honored and proud to have had the opportunity to manage the Los Angeles Dodgers," said Mattingly. "I've enjoyed my experiences and relationships with the organization's staff and players throughout my eight years in L.A. After meeting with Andrew, Farhan and Josh, we all felt that a fresh start would be good for both the organization and me. We talked about several scenarios, including my returning in 2016. However, I believe this is the right time and right move for both parties. I'm still very passionate about managing and hope to get the opportunity in the near future. In the meantime, I want to thank the Dodger organization, the city and our fans for the opportunity and wish the club well going forward."
In five seasons as Dodgers manager, Mattingly accumulated an overall record of 446-363 with a .551 winning percentage.