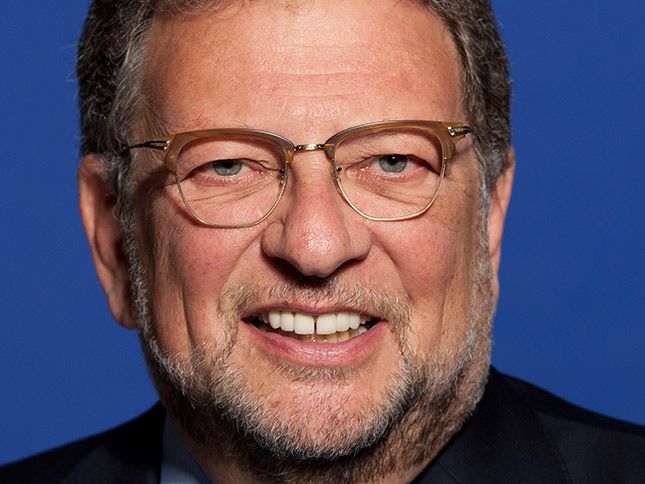 Play-by-play announcer
Four-time Emmy Award-winner Charley Steiner enters his 10th season as a play-by-play announcer for the Dodgers. The veteran broadcaster will call the action for all games on the Dodgers' new television network, SportsNet LA, outside of California and Arizona with new partner Orel Hershiser. In addition, Steiner will continue his duties as the radio play-by-play voice for all home games and away contests in California and Arizona on the Dodgers' flagship station, AM 570 Fox Sports Los Angeles, alongside Rick Monday.
On Nov. 9, 2013, Steiner entered the National Radio Hall of Fame in Chicago, joining Orson Welles, Edward R. Murrow, Paul Harvey, Vin Scully and Larry King among others. King, a lifelong Dodger fan, inducted Steiner, who became the 17th sportscaster admitted into the Radio Hall of Fame.
Before joining the Dodgers, Steiner broadcast three years for the New York Yankees on WCBS Radio and the YES Network. While with the Yankees, Steiner and his partner John Sterling received the A.I.R (Achievement in Radio), for best play-by-play.
Prior to his seasons with the Yankees, Steiner spent 14 years at ESPN, where his responsibilities ranged from anchoring SportsCenter to working play-by-play for Major League Baseball on ESPN Radio and Television. He was also the play-by-play voice for ESPN 2's Saturday Primetime football. He served as SportsCenter's primary boxing reporter/analyst and also contributed to the Emmy and CableACE Award-winning Outside the Line series. His nationally-acclaimed coverage of the Mike Tyson trial in Indianapolis earned him a Clarion award.
In December 2010, Steiner delivered the commencement address at his alma mater Bradley University's mid-year commencement and received an honorary Doctor of Humane Letters degree from the university. Steiner graduated from Bradley in 1971 and was inducted into the school's Sports Hall of Fame in 1995. He is also a member of Bradley's Centurion Society, which recognizes university alumni who have brought national and international credit to the school, and in 1991 received Bradley's Lydia Moss Bradley Award, which honors those who have given outstanding service to the school. Steiner has established the Charles H. Steiner Endowed Scholarship, which is given annually to Bradley broadcasting majors and in 2012 he was the keynote speaker at Bradley's Fifth Summit on Communication and Sport.
This season Australia will become the seventh different country in which Steiner has broadcast Major League Baseball. In 2008, Steiner had the distinction of calling the Dodgers' historic two-game series in Beijing, China, the first ever Major League games played on Chinese soil. Steiner has called games in six different countries as he was also behind the microphone for ESPN in 1999 when MLB opened the season for the first time in Monterrey, Mexico and the first-ever Major League game in Puerto Rico in 2001. Steiner also called the 2004 Opening Day festivities for the Yankees in Tokyo, Japan. Steiner called the 2013 World Baseball Classic for Major League Baseball International and in 2006, he served as the lead play-by-play announcer for XM Radio at the inaugural WBC.
In 2009, Steiner won two Emmys for his broadcast work with PRIME TICKET for the network's "True Blue Stories," which aired during the Dodgers' 50th anniversary season.
In 2005, his first season with the Dodgers, USA Today ranked the club's radio broadcast team, featuring Hall of Famer Vin Scully, Rick Monday and Steiner, as Major League Baseball's best.
He began his professional broadcasting career in 1969 at WIRL Radio in Peoria, Illinois as a newscaster. After a nine-month stint at KSTT Radio in Davenport, Iowa, Steiner moved to Connecticut, where he served as News Director at WAVZ radio in New Haven and, later, at WPOP radio in Hartford.
After a year and half in Cleveland working at WERE radio and WKYC television as a sportscaster, Steiner moved home to New York, where for the next seven years, he was the morning sportscaster on WOR radio, while serving as sports director for the RKO Radio Network.
In addition, Steiner called the play-by-play for the USFL New Jersey Generals and, later, for the New York Jets on WABC radio. He won the UPI Best Radio Sportscaster award for New York, New Jersey and Connecticut in 1981, 1983 and 1985, and the New York State Broadcasters Award for best radio play-by-play in 1983, 1984 and 1987 before joining ESPN. He spent five years calling the action for the Harvard-Yale football game each fall.
Steiner resides in Los Angeles and is originally from New York.